Nov 21, 2021 - Fashion
The Preppy Girl's Guide to Pink Shoes
I have been on the hunt for pink shoes for as long as I can remember, and now is the time to stock up!
J Crew Factory Smoking Loafers with Tassels
These are so fun and versatile. I see myself wearing these all year round with jeans to dresses. I have already tested these babies out, and they are a winner! Neon pink at it's best! Currently on sale for about $40-50!
Link: J.Crew Factory: Faux-suede Smoking Loafers With Tassels For Women
Crown and Ivy Whitley flats
So the story with these shoes goes like this. During quarantine, I found these Anne Klein shoes at Belk that were the same exact color scheme. Wore them, loved them….Flash forward to February 2021, I'm roaming my local Belk, and find these Crown and Ivy dupes that were fantastic. Did I buy them as back up? Why, of course. Currently on sale for about $30.
Crown & Ivy™ Whitley Flats | belk
J Crew Knotted sandals
These are more of a bubble gum pink than a neon, and I just love the simplicity of them. They would like great with a plain white dress with some gold accessories, or a patterned Lilly P dress. The best part of these ones is that they look super comfortable, and not fussy at all. Regular price on these is about $128.
Link: J.Crew: Knotted Sandals In Chino Cotton For Women
Gucci Baby Slingback Pumps
Yaaaaaaaaaaaaasssss!!!! I absolutely love these Gucci slingbacks! They have a block heel which is basically the only type of heel I can rock these days. Love the gold hardware! So chic! Only drawback is the price, so I will have to pass on these for now. If you have $790 laying around, feel free to buy these and I will be majorly jealous!
Link: Gucci Baby Slingback Pumps | SaksFifthAvenue
The classic Palm Beach Sandal
I know that people love their Jack Roger's sandals, but these are much better in my opinion. I was lucky enough to visit their Palm Beach factory store, and found out you can custom make any color combination you wish!!! If you are starting out, I would recommend either this pink and green pair or a pink with gold laces. They are much more affordable at $117, and these last for years and years. Very good bang for your buck!
Link: Classic Arbutus / Pomme – Palm Beach Sandals
Lilly Pulitzer McKim Sandal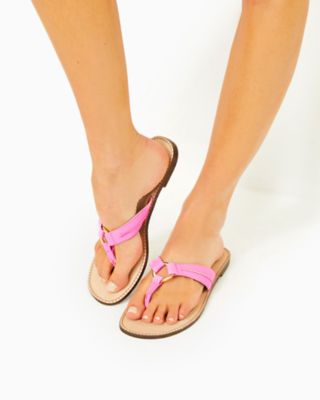 Best $98 you will ever spend! These will usually never make it to a sale, but I am perfectly fine paying full price for these cuties. They go with all my Lilly perfectly, and are my go-to vacation sandals.
Link: McKim Sandal | Lilly Pulitzer
Lilly Pulitzer Pool Flip Flop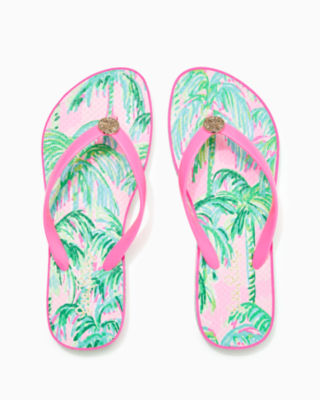 I have many of these Lilly flip flops, and they have withstood a lot of wear and tear. They have travelled with me to Mexico, Dominican Republic, Florida, and are still going strong. This new print Pink Blossom Suite Views is my favorite print this year! Priced at $38, you just can't resist. These get the Tina seal of approval!
Link: Pool Flip Flop | Lilly Pulitzer
I will definitely still be on the lookout and will update when I see more awesome finds!!!
xoxo,
Tina